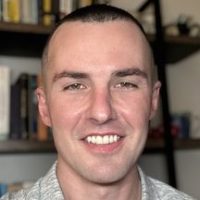 Logan completed his master's degree in clinical psychology and is currently pursuing doctorate in clinical psychology at Adler University with a specialization in substance use treatment. Logan earned his bachelor's degree in social work from the University of Wisconsin – Oshkosh. He possesses experience in working with children, teens, adults, and families from diverse backgrounds in various treatment settings.
Logan utilizes a range of therapeutic modalities, including Cognitive-Behavioral Therapy (CBT), Acceptance and Commitment Therapy (ACT), Adlerian Therapy, and Person-Centered Therapy. He has experience in treating the following:
Trauma
Grief/Loss
Addictions / Co-Occurring Disorders
ADHD
Anxiety
Depression
Oppositional Behavior
Family Conflict
Interpersonal Relationships
Relationship Issues
Billing under the supervision of Molly Champagne, LCSW, CADC, Logan is an in-network provider for Blue Cross Blue Shield of Illinois PPO.
Personal Statement:
At the heart of any therapeutic relationship lies the alliance formed between the therapist and the client, which serves as the foundation for meaningful change. My approach to therapy is rooted in collaboration, empowerment, and self-determination. In therapy, I play the role of a supportive guide, empowering individuals to tap into their intrinsic motivation and abilities. Confronting life's challenges is never easy, and often, we make things more difficult for ourselves when we attempt to tackle them alone. Therapy can help us uncover the missing pieces that have hindered our ability to successfully adapt to circumstances. It would be an honor to be a part of your journey.
In my work with children and teens, I have found it most effective to truly "meet the client where they are at." Many children and teens want to feel understood and need to establish trust before they are ready to delve into making changes. I had the distinct privilege of being trained by the founder of Motivational Interviewing, William R. Miller, and I utilize my training and experience to evoke patients' intrinsic motivation for change. My approach with children and teens involves maintaining a state of flow throughout the session, where I pay close attention to subtle details and patient communication. This allows me to respond effectively and efficiently during the session, creating more opportunities for meaningful change to occur.
OUR LOCATIONS
910 Skokie Boulevard
Suite 215
Northbrook, IL 60062
155 N. Michigan Avenue
Suite 609
Chicago, IL 60601