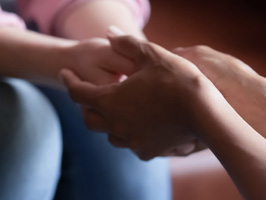 The clinicians at Affiliates in Counseling's Addictions Treatment Center are experts at treating substance and behavioral addictions. Our clinicians have experience treating clients of all ages and are equipped to manage issues from drug and alcohol addiction to gambling and sex addiction. Treatment plans are tailored to each client as we understand that for some the goal may be abstinence and for others it may be learning how to manage their use/behaviors more effectively. To assist clients in the path that is most appropriate, our clinicians have extensive knowledge of self-help groups such as 12-STEP and SMART Recovery, and are also very well-versed in a range of therapeutic modalities found effective in treating addiction. They believe that the problematic behaviors are typically symptomatic of deeper issues and so use the therapeutic space to help clients tap into what fuels their problematic actions and thought patterns, in order to create and sustain long-term change.
Our clinicians have seen firsthand that addiction not only impacts the client, but also those around them, and soThe Addictions Treatment Center also offers family and couples therapy.
We believe that a client is never too young to begin processing and managing their behaviors; a formal "addiction" diagnosis is not necessary in order to benefit from our clinicians knowledge and expertise.
Treatment Areas
We treat individuals of all ages in the following areas:
Substance Use/Abuse
Impulse Control Difficulties
Relationship Addiction (i.e., co-dependency & dependency)
Process/Behavioral Addictions
Screen Activities, Social Media, Shopping, Gambling, Porn & Sexual Addictions
Family Members of Addicts
Recovery (both new and sustained)
Treatment Options
Supportive Counseling
Individual Psychotherapy
Family Therapy
Marital & Couples Therapy
Group Therapy
School Evaluations
Please note, we do not offer DUI assessments or employment assistance assessments.
OUR LOCATIONS
910 Skokie Boulevard
Suite 215
Northbrook, IL 60062
155 N. Michigan Avenue
Suite 609
Chicago, IL 60601